We are very happy to present Particeep's new website !

We have worked to focus our message on our four main client types:
Crowdfunding Players: crowdfunding platforms, crowdequity, crowdfunding and other FinTechs who want to have a turnkey platform to organize their financing.
Asset Management Companies: wanting to digitalise their business and facilitate the distribution of their financial products, eg: innovation-focused mutual funds, investment funds, property, etc. Particeep's solution allows them to reach a new class of investors and accelerate subscriptions to their product. Partners such as wealth managers are also integrated into the platform and can track the activities of their clients.
Funds and institutional investors: for customised solutions. Tools to aggregate deals from other platforms, private investment platforms and portfolio monitoring, Particeep's API offers powerful and customised solutions for institutional and investment funds.
Key accounts: for our call for projects platforms, innovation challenge management and innovation platforms for open innovation. Particeep offers a platform set up quickly that manages calls for projects and project selection.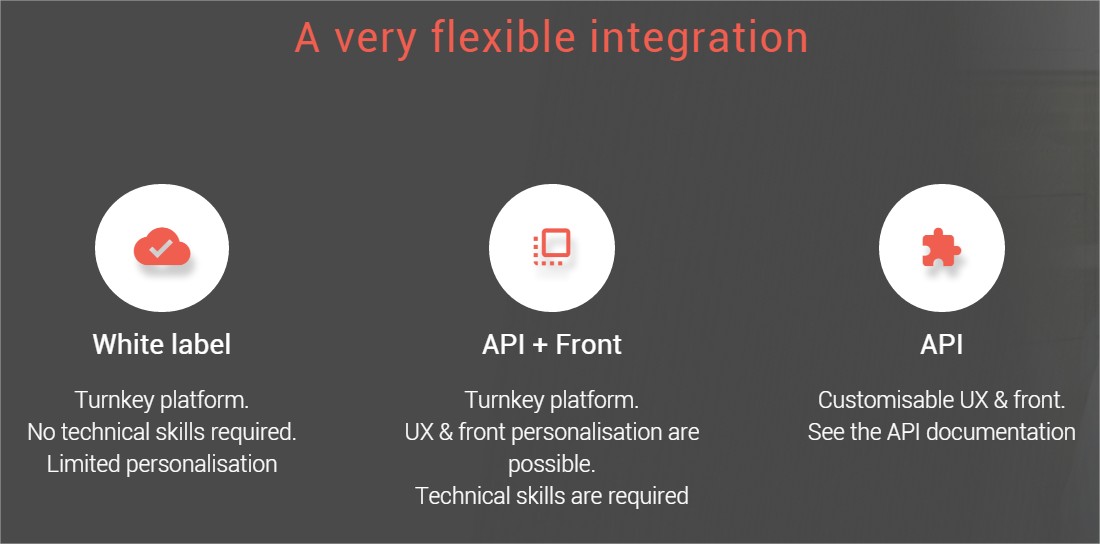 You will also discover in more detail our API:
The financing platform API – Currently being tested by some of our clients that we have selected. The beta version will be launched publicly by late March. Documentation is available (not all the "endpoints").
The insurance API "plug and play" – Particeep developed an API allowing you to offer an insurance service for the users of your platform.
Our website is fully mobile and tablet-compatible.
Don't hesitate to contact us with any questions or for a demonstration of our software: sales@particeep.com