The European Crowdfunding Convention sets the stage for being Europe's largest, most important event in the Crowdfunding industry, a must for top executives of Crowdfunding Platforms, Business Angels, Venture Capital Funds, Incubators, Technology and Creative Media Industries, Renewable Energy Sector, Development Aid Professionals, Policy Makers, Startup Managers and Entrepreneurs as well as other interested stakeholders.
Meet Particeep at the 4 th European crowdfunding convention, the reference event for the European crowdfunding industry in Paris from 29 to 30th of october 2015.
The first day of the Convention will have a specific focus on Capital Markets Union and its implications for crowdfunding; the second day, instead, will leave plenty of space to discuss recent and upcoming developments of crowdfunding.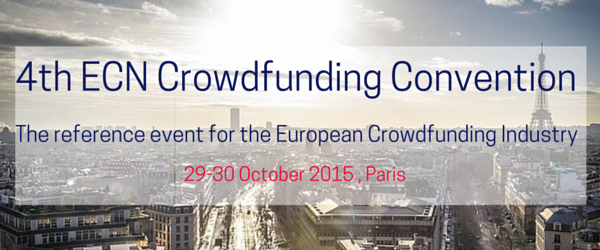 Steve FOGUE, CEO of Particeep will share its views and opinions on the happening's trends in the crowdfunding industry as a speaker on the panel : Traditional finance and corporations meet Crowdfunding & Fintech.
A hint :
More and more traditional finance actors and large corporations are showing a real interest for crowdfunding. From banks to pension funds, from angels to insurance companies, an increasing number of organizations seem to have understood the opportunity that the sector brings about. The panel will discuss future trends, challenges and opportunities.
The panel: 30 October 15:30-16:15
Steve Fogue, Co-founder and CEO, Particeep
Benoit Bazzocchi, CEO, SmartAngels
Michiel Van Hove, Business Developer, BNP Paribas Fortis
Stephan Lubiarz, Chairman, EOS Venture
David Charlet, Chairman, ANACOFI (moderator
Location
Bpifrance , Boulevard Haussmann 6 – 8, 75009 Paris, France
---
How to register ?
Tickets are available on the following website : ECN crowdfunding convention website