Meet Particeep at Moneyconf, G20 summit and Viva Technology. Check out our new blog, new platforms, new products & features!
June Newsletter
Meet Particeep at Moneyconf, G20 summit and Viva Technology. Check out our new blog and new platforms...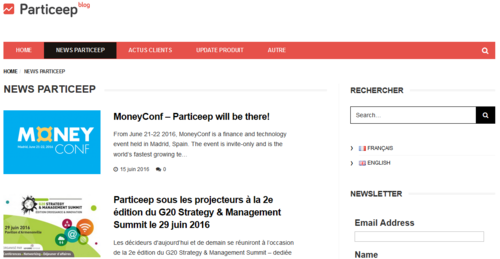 The new version of Particeep's blog is now available!
Discover and follow Particeep's news and news on the Fintech sector, all on Particeep's blog.
Sign up for our newsletter to follow news on Particeep, our customers, the Fintech sector in France and abroad.
Follow all the innovations and product updates of Particeep.
Check out the list of events that we'll be attending to meet our teams.
News of the month
My Courte Échelle - a regional crowdfunding platform

Communities and institutions of the Jura region gather their strength to boost the local economy. They chose Particeep's technology to create their platform. Read more here
Graine de Boss - M6 partner works with Particeep

Graines de Boss opted for Particeep to create its matchmaking platform between more than 200 heads of famous companies (Total, Arkea ...) and young entrepreneurs. Read more here
€400K funded in 3 weeks on Tributile

The crowdlending platform uses Particeep's accelerating technology. €400K was collected in 3 weeks on the Nacarat project and their platform is now one of the top 10 French crowdlending platforms. Read more here
Meet us!
Particeep is the first French SAAS solution available in white label to enable paperless management of funding operations online.
With its customizable and modular technology, any organization can now create their own financial product distribution platform, crowdfunding or crowdsourcing platform.
Our team is at your disposal on 01 79 75 66 63.
Questions? sales@particeep.com or visit our website.
Follow us!