What is Corporate crowdfunding ?
The crowdfunding ecosystem is well supplied in France. There are a multitude of platforms to fund ideas, projects, startups and SMEs, in several different forms: donation/rewards, capital stake, bonds or loans. This funding is for project owners or managers of SMEs to get the means to finance quickly and at the same time, to make their product known within a community committed to the project or the company.
Initiatives have emerged recently that can be called "corporate crowdfunding" in large groups.
These initiatives take many different forms but the goal is often the same: to innovate and reinvent themselves.
The example of intrapreneurship
Urbanization is on. Businesses create "Labs" dedicated to innovation to counter this movement and to urbanise from within. These labs sometimes welcome external startups, but also internal startups driven by "intrapreneurs" (employee entrepreneurs). Corporate crowdfunding allows leaders to give a budget to employees who decide to allocate discretionary funding for one or more projects that are the most promising. Corporate crowdfunding is not organized on a public platform open to all, but on a private space for employees.
The projects to be financed are usually pre-selected by an internal jury of managers who choose the projects on "business" oriented criteria to make evident returns on relatively short-term investment. But the final funding returns to the "crowd" of employees.
These strategies help to foster innovation by giving entrepreneurial freedom within the company and especially to engage employees around projects of other employees who are in control of the budget, therefore the power. These strategies also allow for the emergence of internal projects which are more original or quirky with a vertical decision-making system: "innovate not have a new idea, but to stop having old ideas."
Crowdfunding between business units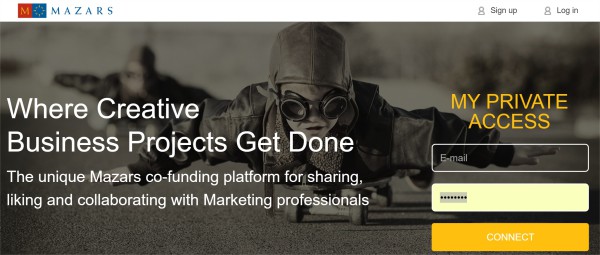 Crowdfunding is also organized between "BU", ie different group entities. Through an initiative launched by the Mazars' Lab and Particeep, Executive Marketing Group of Mazars has recently launched an initiative between its different countries. The goal ? To finance projects on a larger scale and to increase synergies between Mazars marketing offices worldwide.
The decision of each office is to financially engage on one or more projects proposed by another office (even off budget period, which increases the reactivity). This system allows to share information easier on playful interfaces similar to those of crowdfunding. It also creates synergies between group entities and to better know each other's initiatives to be inspired, to duplicate or support.
Such initiatives getting more and more popular and we can understand why: they respond to key strategic points: innovation, encourage entrepreneurial spirit, create links between employees of a multinational group and obtain the support of all before the launch of a project.