According to the study "2019 Global Wealth Management Research Report" conducted by Ernst & Young in 2019, 39% of investors think they will change suppliers between 2019 and 2022. Although this number is down compared to the three years previous years, it demonstrates the importance for asset management companies of meeting customer expectations. One of the major demands is the digitalization of processes and the interaction between adviser and client. Obviously, wealth management advisors must also digitize and automate their processes in order to follow the expectations of their clients.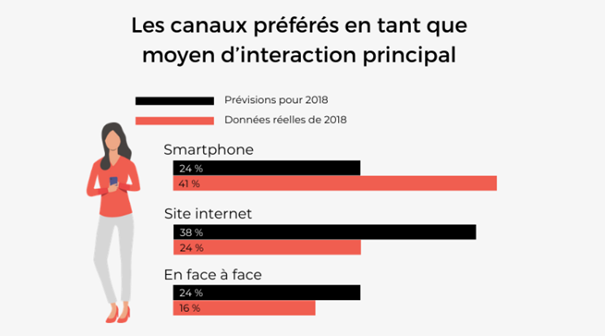 As our infographic published on March 31, 2020 shows, digital, especially smartphones, is the preferred medium for customers to interact with the company providing financial investments.
In its study carried out in March 2018 with more than 350 advisers, Cognizant reveals that:
76% think that the "robo-advisor" tools will gain in sophistication and their adoption will exceed the high-end segment
Priority to acquire new customers:

Improve the quality and speed of delivery of customer proposals (80% agree with this statement)

Better identify and interact with "new generation" prospects (75% agree with this statement)
But how do you digitize your investment product offerings? It is possible to opt for internal development, however, many management companies prefer to collaborate with fintechs which offer white label distribution platforms such as Particeep with its Particeep Finstore solution.
What are the advantages of a turnkey solution for the distribution of investment products?
First, it should be remembered that collaborating with a fintech specializing in the digitalization of subscription paths to financial products and services such as investments, allows its customers to use reliable, secure and robust technology.
From an internal point of view, this collaboration makes it possible to ensure the compliance of the entire underwriting process (KYC, Risk management, etc.), as well as rapid implementation and at a cost much lower than development internally or through a development company.
For example, the Particeep Finstore solution is integrated and available in just one month. In addition, a white label solution allows you to keep control of your brand image: the online distribution solution keeps your colors!
Various application cases
Distribution and reporting for management companies
Creation of a reporting and marketing platform for management companies' products and services (SCPI, UCITS, etc.)
Club deals
Creation of a private co-investment platform for business angels (for example, a private platform for wealthy clients, etc.)
Complete and secure back-office
Dedicated access for investors
Provide your users with an intuitive investment interface; integrate functionalities adapted to your business and your objectives
Partner access
Give access to your partner wealth management advisers, accountants or business introducers. They follow the operations and actions of their customers via a secure space.
Management of operations and investor relations
Collect and manage all investment operations online. Investors can subscribe online to all of your direct investment offers. Some services, such as Particeep Finstore, offer to initiate the subscription with their wealth management advisor.
Powerful white label platform
Automate your financial transactions
Give access to your partner wealth management advisers, chartered accountants or business introducers. They follow the operations and actions of their customers via a dedicated space.
Fast and efficient management
The features allow you to manage the online community, operations, financial flows, legal documents to sign, reporting, etc.
Configure all features
From the configuration dashboard, all the functions are configurable, the platform can be edited, and all the data are accessible in real-time.
White-label platforms are therefore ideal solutions in order to be able to create and develop your secure portfolio management platform. Indeed, digitalization solutions like Particeep Finstore are based on an API allowing easy integration of innovative services into your subscription journey.
But as a management company or wealth management advisor, how does the back office of a white label investment platform work?
Complete deal flow management
File aggregator: identify investment files from your platform, your network or any other third-party application or website. Particeep aggregates your files in a single format.
Management of negotiations and transactions: involve your analysts or external experts in your files for evaluation. Then use integrated document management, historical messaging and financing management to negotiate termsheets or memoranda of operations.
Monitoring of investments: carry out the closing and the disbursement of the funds of your investments online then follow according to the defined period the performance indicators provided by the company or by a third-party accounting system for example.
Platform integrated into your information system.
Secure: access to the platform is configured according to your security constraints. Your access protocols can be customized and you can choose to host the platform on a dedicated cloud or internally.
Data transfer: at any time, you can import data into your platform or export it to integrate it into your existing tools. You can create data exchange gateways between your existing tools and the platform.
Configuration of your deal flow: the stages of your deal flow are customizable. You operate online without modifying your portfolio management methodology.