Particeep is a partner of the European Banking Forum which will be held on 15th – 16th May in London. Meet our team there to get our Banking API live demonstration!
This year, the European Banking Forum event offers a platform for leading European retail banks to come together to discuss their strategy for digital transformation. The event will focus on use-cases and experience-based insights to provide attendees with useful and practical knowledge. This includes examples of structural changes which have increased agility and customer-facing solutions which have dramatically improved the customer journey.
The scope of the forum includes insights into how banks can collect and leverage data to create customer-centric products and a seamless customer journey, how best to commercialize PSD2, increase agility, optimize existing channels and achieve OmniChannel.
The Particeep team looks forward to seeing you in London! Come and get a live demo of our solutions to market online your financial services!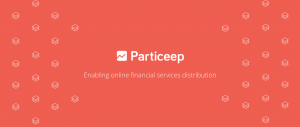 Particeep, the fintech that enables online financial services distribution!
Particeep is a fintech that provides financial institutions a turnkey technology to market online their financial services and products. The company offers banks, asset management companies, insurers and their distributors an API technology that integrates a full range of ready-to-use financial micro-services to quickly launch their online distribution business.
In addition to this API, it offers turnkey white label financial products distribution platforms.
Particeep's clients include banks such as La Banque Postale, asset management companies such as Vatel Capital, AXA Gestion Privée, open innovation players such as the Humanis group and several FinTech and alternative finance players.
Particeep is supported by Bpifrance, the AXA Strategic Ventures fund, Total Développement Régional and JMYX Holding, a venture capital fund led by Jean Losco, Founder of Fircosoft (software editor and worldwide leader in financial flow filtering).
Particeep is a young innovative company, winner of the Fintech Bank and Innovation Award 2017, elected Future Fintech European Star 2016 (ICT Awards 2016) and selected by Challenges in the 2016 ranking of 100 startups to invest.