Press Release
Paris, France – 16 February 2021
The fintech

Particeep

, a leader SaaS distribution solution for financial products and services, announces the arrival of the European fund specialized in fintechs Truffle Capital, and Sopra Steria a European leader in consulting, digital services and software development as minority shareholders.
Created in 2013 and based in Paris, the fintech Particeep digitalizes and simplifies the underwriting of banking, insurance and savings products. Thanks to Particeep, banks and insurance companies can not only offer their end customers online subscriptions, but also offer distributors and partners controlled and secure access to their offers and associated subscription journeys. Particeep also offers a white-label distribution platform for online distribution of savings and investments, directly and via wealth advisors. Present in four countries (France, USA, Portugal and Luxembourg), the company now serves around 100 customers, such as Crédit Agricole, Groupama or Nexity. Particeep has around thirty employees and recorded in 2020 a volume of subscriptions of more than €500 million, up 70% compared to 2019.
In order to continue its growth, Particeep announces the arrival of Truffle Capital and Sopra Steria as minority shareholders. This investment of nearly €2 million, which is part of an important strategic plan, will enable Particeep to finance its growth, its development and technological innovations over the coming years with Truffle Capital and Sopra Steria. In addition, the participation of Sopra Steria, present with its banking software Sopra Banking Software in more than 25 countries, will accelerate the commercial conquest of the European, American, African and Asian markets. By integrating Particeep into its offer available for 1,500 financial institutions, Sopra Banking Software will provide a native and turnkey solution to facilitate the online distribution of financial products.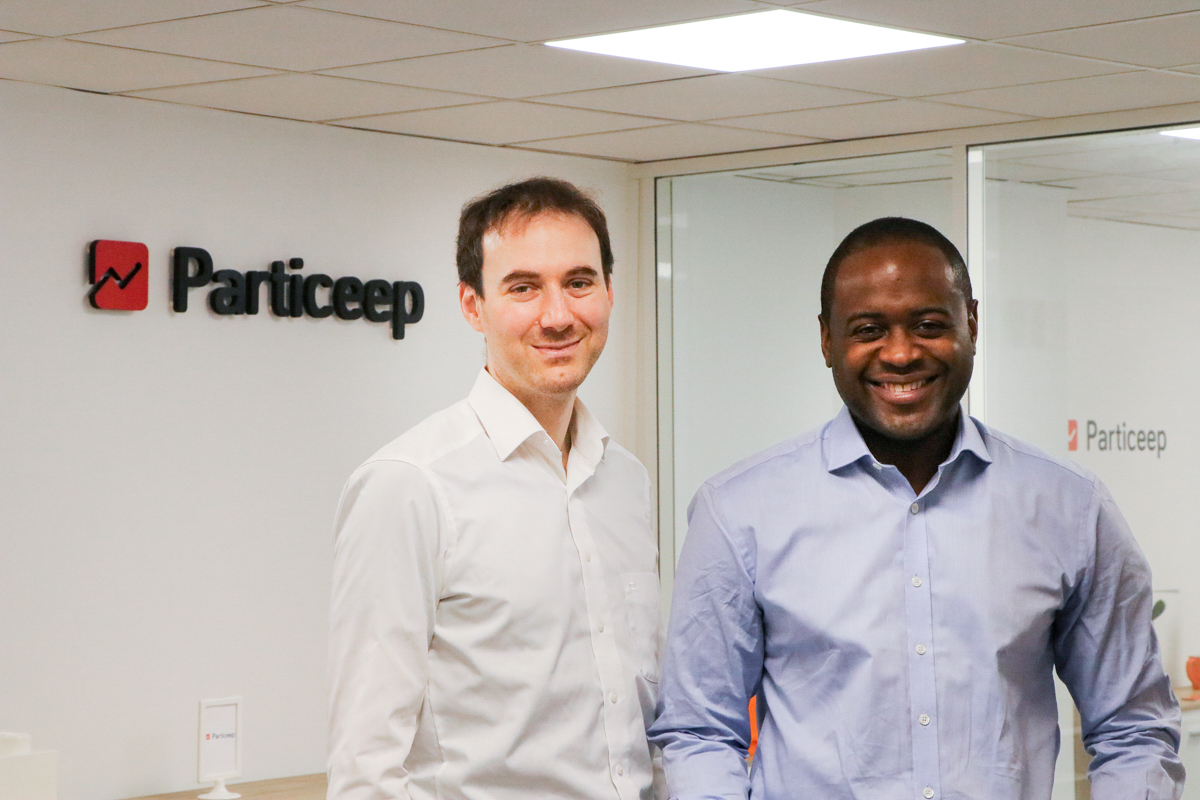 Steve Fogue, President and co-founder of Particeep, said: "The democratization of the distribution of financial services on platforms is underway. Particeep will be able to position itself as a key player in this digital transition with the support of new shareholders. We are delighted to benefit from the financial support and expertise of the Truffle Capital teams; and we look forward to this strategic alliance with Sopra Steria and Sopra Banking Software that will enable us to accelerate the international deployment of our solutions to financial institutions."
Bernard-Louis Roques, CEO and co-founder of Truffle Capital, adds: «We have been following Particeep for several years and have been impressed by its ability to develop a "plug & play" solution to digitize the subscription and distribution of financial products, thus allowing banks, insurance companies and mutuals to launch new offers through a simple «copy and paste" of a line of code. Their technology, validated by Sopra Steria, a leading player in the sector, fits perfectly into our portfolio of innovative Insurtechs and Fintechs at the heart of the Truffle ecosystem."
Guillaume Blot, Chief Digital & Innovation Officer – Senior Vice-President of Sopra Banking Software, concludes: "We are proud to support Particeep and to allow them to benefit from our strong presence in the European, American, African and Asian markets. Our Group's commitment alongside Particeep is part of our desire to contribute alongside FinTechs to shaping the finance of tomorrow."
About Particeep
Particeep is a fintech that provides SaaS solutions for online distribution of banking, insurance and saving products. Particeep helps banks, insurers, asset management companies and their distributors to deploy digital subscription solutions for their products and services connected to their existing information system in less than a month. Among its customers, Particeep has major players in banking, insurance and investment in France, Europe and the United States such as Crédit du Nord, Crédit Mutuel Arkéa, Crédit Agricole, MetLife, Groupama, RCI Bank and Paref Gestion. Particeep is a Young Innovative Company, twice labeled by Finance Innovation and winner of a dozen awards such as the Best Open Banking API Europe 2020 award of the Global Banking & Finance Review and the Open Banking awards of Innovation Bank in 2018 and 2017.
More information: http://www.particeep.com – Twitter: @Particeep – Linkedin: Particeep
Media Contact
Saltana El Jazouli | saltana.eljazouli@particeep.com | +33 7 49 10 26 86
About Truffle Capital
Created in 2001, Truffle Capital is an independent European Venture Capital company specializing in life sciences (Medtech and Biotech) and disruptive technologies in the IT sectors (Fintech and Insurtech). Truffle Capital's mission is to support the creation and development of innovative start-ups capable of becoming the leaders of tomorrow. Chaired by Patrick Kron and headed by Doctor Philippe Pouletty and Bernard-Louis Roques, Co-founders and Managing Directors, Truffle Capital manages €700 million in assets. It has raised more than €1.1 billion since its creation and has supported more than 75 companies in the digital technologies and life sciences sectors. In 2019, Truffle Capital announced the raising of nearly €400 million in new institutional funds, including €140 million in Fintech/Insurtech.
More information: http://www.truffle.com – Twitter: @trufflecapital
Media Contact
DGM Conseil
Quentin Hua | quentin.hua@dgm-conseil.fr | +33 6 28 63 27 29
Thomas de Climens | thomasdeclimens@dgm-conseil.fr | +33 6 14 50 15 84
About Sopra Steria
Sopra Steria, a European leader in consulting, digital services and software development, helps its clients drive their digital transformation to obtain tangible and sustainable benefits. It provides end-to-end solutions to make large companies and organisations more competitive by combining in-depth knowledge of a wide range of business sectors and innovative technologies with a fully collaborative approach. Sopra Steria places people at the heart of everything it does and is committed to making the most of digital technology to build a positive future for its clients. With 46,000 employees in 25 countries, the Group generated revenue of €4.4 billion in 2019.
The world is how we shape it.
Sopra Steria (SOP) is listed on Euronext Paris (Compartment A) – ISIN code: FR0000050809
For more information, please visit www.soprasteria.com
Media Contact
Sopra Steria : Elsa Estager | elsa.estager@soprasteria.com | +33 (0)7 86 73 21 17
Agence BCW (Burson Cohn & Wolfe) : Vincent Darricarrere | vincent.darricarrere@bcw-global.com | +33 (0)6 76 05 95 63
About Sopra Banking Software
Sopra Banking Software is the partner of choice for more than 1,500 financial institutions worldwide. The rich variety of our solutions, the strength of our conviction and our passion for innovation enable us to support our clients on a daily basis and in their future projects, as well as in their goals regarding financial inclusion. Our customers, based in over 80 countries around the world, benefit every day from our technologies and software, as well as the expertise of our 5,000 employees. Sopra Banking Software is a subsidiary of the Sopra Steria Group, a European leader in consulting, digital services and software development.

For more information, find us on LinkedIn, Twitter & Instagram or visit www.soprabanking.com
Media Contact
Sopra Banking Software : Stéphanie Decortiat | stephanie.decortiat@soprabanking.com | +33 (0)6 71 56 43 10
Agence BCW (Burson Cohn & Wolfe) : Chadia Messaoudi, +33 (0)6 76 05 95 64 – Carine Currit-Nikaes, +33 (0)6 29 46 98 20 team.Soprabanking@bcw-global.com